Reliance® 444™ Washer/Disinfector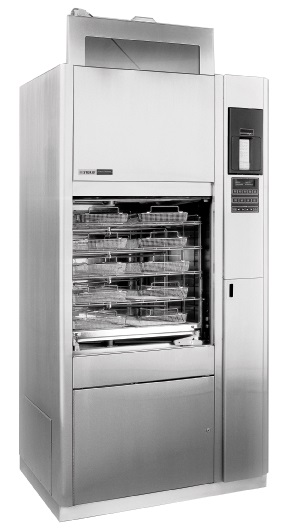 Introduction:
This self paced instructor led training at our Mentor, Ohio service training facility will provide your equipment technicians with the knowledge they need to operate and perform maintenance on the Reliance® 444™ Washer/Disinfector.
Course Goal:
This class provides the student with an in depth understanding of how to operate the Reliance 444 Washer/Disinfector and perform troubleshooting and adjustments. The student will learn the theory of operation and functional descriptions for major components and how to access the STERIS website for technical information, technical assistance or place a service request.
Course Outcomes:
At the end of this class, the student will be able to:
identify and explain the function of the main components and sub-assemblies of the washer.
locate key sections of the operator and maintenance manuals.
operate the washer in operator and service modes.
explain the function and flow of utilities through the washer.
locate the Chemical Delivery System components, perform associated preventive maintenance tasks and calibrate the system.
locate and complete preventive maintenance on the pneumatic components of the washer.
rebuild and replace key plumbing components associated with the washer.
recall the proper function of main system outputs and inputs during a given cycle.
complete preventive maintenance tasks on the washer door.
complete maintenance tasks on the chamber components of the washer, including the rack manifold and spray arms.
calibrate the temperature on the washer.
verify the operation of the washer electrical system.
troubleshoot common issues on the washer.
access the STERIS service websites for assistance.
Why train at this location:
Your staff can attend focused in depth training at our facility, providing them the opportunity to operate the Reliance 444 Washer/Disinfector and perform preventive maintenance procedures without the worries of interrupting your facility's operation. They can gain new skills, boost their confidence, and improve their productivity. This training is conducted in a self-paced format allowing the instructor to spend more one-on-one time with the student.
Registration Process
Step One
Select the desired class date in the Class Schedule section by clicking the Register button to complete the Registration Payment Information Form.
Step Two
If you already have a STERIS Customer Training account profile, you will receive a registration notification from STERIS upon STERIS's receipt of full payment and your request processed.
If you do not have a STERIS Customer Training account profile, please create your account here so your registration can be completed by STERIS.
Creating an account profile will enable STERIS to complete your registration and you to track all learning within the STERIS University Online Learning Center. When creating your account, please use your e-mail address on the Registration Payment Information Form as your login e-mail.